Call Us Today – (720) 588-8189
If you are looking for the best personal training service company near Superior Colorado look no further.  Personal Retraining offers a unique approach to private training that you have likely not encountered before.  Rather than mindlessly building muscle with your typical bodybuilding routine, this approach will have you rethinking the scope of what a personal trainer can, and possibly should, be providing.
"This is the intelligent man's workout, not a "meathead" thing. I have increased flexibility everywhere, better diet, better posture, less back and knee pain. I love that Ross knows the details and can explain them clearly. This is the most important mental exercise you can ever do. It will change all aspects of your life, not just your exercise."
—Christian Jacobsen, Storyteller
The benefits of personal training are compounded when you first address an individual's areas of weakness.  True private training aims to locate these weak link areas, and strengthen them before moving toward adding weight.  Adding stress to weak points in the human body might yield superficial improvements that later prime the body for injury.  The goal of Personal retraining is to address the weak areas, build those up first, and then to start really going after health and fitness with a solid foundation.
Professional personal training, which can include cross training, is a highly skilled art offered by certified personal trainers.  Carefully crafting a 'workout' plan that first addresses the problem, or potential problem, areas can enhance the likelihood of long term success with your fitness goals.  A common side effect of personal retraining is serious reduction or elimination of chronic pain.  Experiencing pain suggests that your body is out of balance and simply adding exercise into that equation can give temporary relief while making the underlying problem worse.  We try to eliminate, or reduce as much as possible, the focal point of the issue and build from there.  Pain reduction being a primary goal.
Look no further for your  Personal Trainer near Superior – Give Ross a call today.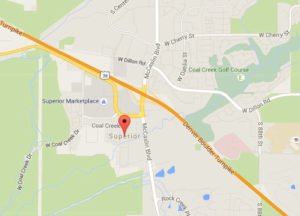 Services Offered:
Injury rehabilitation
Customized Personal Training
Kettlebell Mastery
Health and Fitness coaching
Weightlifting / weight training the safe way
Focus on eliminating pain
'physical therapy' for back pain
endurance and resistance training
Bodybuilding exercise for the discerning athlete