Are you putting tape over your body's check engine light?
Those little aches and tweaks are warning signs that you've trained yourself to ignore. These signs are the exact things you need to pay attention to so you can understand the habits your body has picked up, and understand how your body is asking us to help it. Think of it like a coded message from your body, telling us how to help you feel strong, confident, younger, free of aches and pains.
Feeling discouraged that you'll ever feel strong and resilient again?
Have you been told that familiar B.S. line that "This is just what happens when you get older"?
But what if I told you that you've just never been instructed in the right kind of exercise for your body? What if a little bit of the right exercise would create dramatic and long-lasting changes for you? Think of compound interest, and how small actions now turn into huge benefits later. Now you're seeing the potential for Personal Re-Training.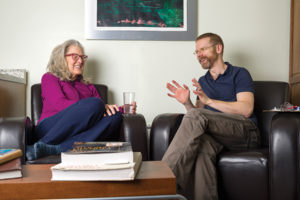 When we upgrade your body's movement at the fundamental level, we unlock your potential and open up a new realm of life-changing and long-term benefits to your strength, comfort, injury-resistance, and confidence.
Clients tell me that they feel 10 years younger, that they're hiking and skiing at an intensity they thought they'd never get to feel again — and they wake up the next day feeling fresh and ready to do it again, not like they were thrown out of a moving car.
If you're feeling resigned to a life of pain and limitation, or if you've been burned in the past when you invested time and money and hope in exercise or chiropractic or massage or physical therapy that didn't help, then take this opportunity to talk to me so we can discover what life-changing benefits are possible for you.
Reserve a free Discovery Session so we can discuss your situation in detail and start to discover how radically different your future could be with the help of the right exercise.
There is no cost or obligation to this Discovery Session. My goal is to get to know more of my neighbors here in Dakota Ridge and become your go-to resource for pain-free exercise advice. I offer private and small group training programs, I've trained more than 16,000 client hours since the year 2000, and all programs are 100% satisfaction guaranteed, or your money back.