These two people refused to stop living their lives because of pain.
Instead, they took on challenges they'd never imagined and put pain behind them. And you can too.
"I've spent most of my life thinking of myself as a person with a bad back," Pearl, 47, told me.
Carrie, 52, said: "Before working with you I was in pain all the time. After the surgery, my whole body started to fall apart. I was desperate."
Over the years, I've heard more than a hundred stories like this. And it breaks my heart.
Do you have a bad back? Or a bum shoulder, or an achey knee? Or maybe those nasty little knots that live in your neck or shoulders?
It breaks my heart because so many people live their lives with pain and restriction that they could be free of, if they just had the right help.
One of my bold and audacious claims is that most people have significant, life-changing benefit available to them, far beyond what they think is possible.
Pearl continued: "I've had times in the past when I had to stand non-stop for hours, I couldn't sit down, and then I'd feel terrible afterwards. But after working with you for nine months, I was at a work event where I had to stand for eight hours straight, and I didn't feel drained and didn't have any back pain."
If you live with pain most every day of your life, or if pain stops you from doing the things you love, or if pain makes it hard for you to get through your daily life, then I'm telling you that it doesn't have to be that way.
"Now I have this sense that I'm not a person with a bad back, I'm a person who needs to be conscious of the way I move my body, and you've really helped me do that." 
When you're in pain, it becomes difficult to think, to engage, to connect. And it's hard to remember what freedom from pain feels like.
Pain can make us feel uninspired and become inactive. And if the pain goes on too long, it can force us to disengage from our lives. We abandon the activities we love, get out of shape, and slide downhill on a road that is frustrating and unhealthy.
But working through pain doesn't work. It makes problems worse, and rarely gives us the results we really want.
Personal Re-Training with Move Well can help you finally experience a lasting solution to your pain, so you can get back to the activities you love, and get back to living life on your terms.
You'll develop the awareness and ability to move more easily, free from pain and fear, and feel years younger.
Now Carrie says, "I can go through a very physical life now and I'm not getting injured all the time, and I'm not in pain all the time."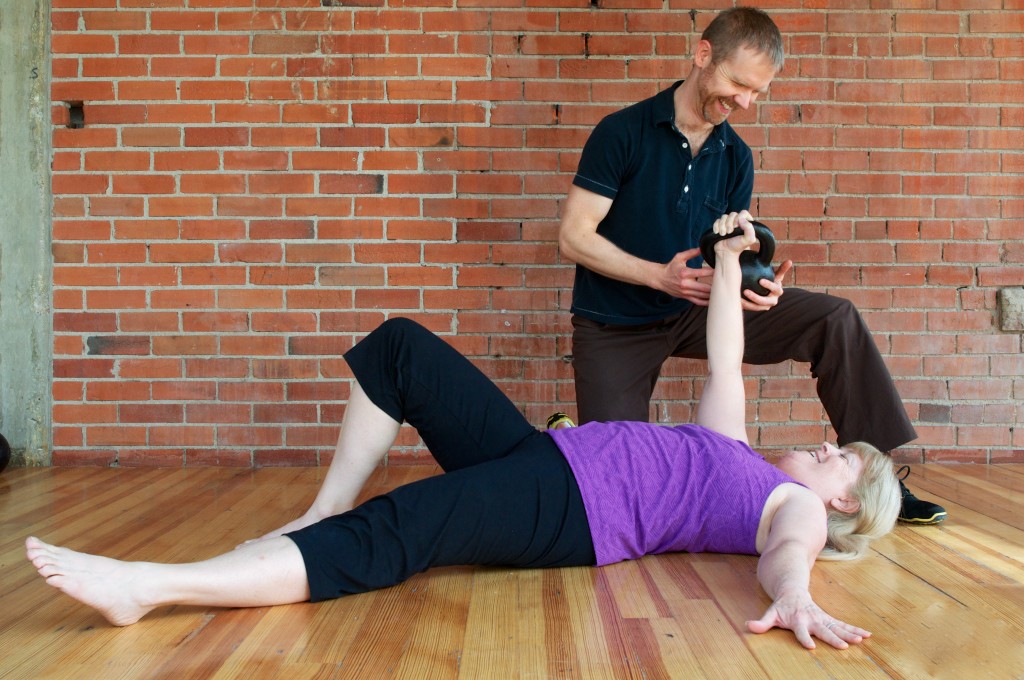 We'll take the time to investigate the root cause of your situation, and leverage my 13,000+ hours of experience to help you feel right as rain in two shakes of a lamb's tail.
"I've learned about my body that if I take good enough care of it, it's pretty much bomb proof. I can do almost anything I want, especially when I consider my age. I love that I'm able to amaze twenty or thirty year olds when I pick up things that they can't."
The life you really want to live is right here and available, inside the body you already have. I'm just going to give you the tools to access your inner power and re-engage in the world.
If you're experiencing ongoing pain, I can help you understand from inside-to-out how to restore balance to your body – and your life.
For example:
I can teach your shoulder how to work with your ribcage instead of crawling up into your neck, cranking on your little neck muscles and leading to headaches, neck pain, and tightness.
I can help your hips and low back remember how to work together well, so that your hamstrings and hip flexors and low back finally relax, and you can touch your toes with ease.
And by the way, that old knee pain probably has more to do with your hips and your feet than you realize. When the hips and feet get back to work, you'll be surprised how good your knees feel.
Get back to living life and being active.
Enjoy the confidence and freedom of knowing that you can stand up without having to worry that something is going to spasm or go out.
Remember when…
… you could get down all night long and still get up in the morning without groaning?
… you didn't have to avoid some part of your body that calls out "Help"?
… you felt as young as you were, not as old as your parents?
I want to restore your experience of your body. I want you to do the things you love, over and over again, for as long as you want to – instead of sitting on the sidelines and watching other people play.
Again, Carrie: "I now feel comfortable that I'll be skiing in my eighties, and that I can maintain a level of fitness which is well beyond what I would have expected for my age if I hadn't done this."
If this sounds like the kind of story you wish you were telling, then click on Contact and reserve a time for a complimentary one-on-one phone consultation. We'll have a chat and suss out how to help you get out of pain and get back to enjoying your life.
I look forward to speaking with you,
—Ross
Reserve your phone consultation
Discover a pain-free life of joy, physical excellence, and freedom.
Let's chat and figure out if you're a good candidate for Personal Re-Training.
Claim your information-packed special insider's report — it's free!
"7 Essential Questions You Need a Trainer to Answer Before They Get Their Hands on You"