For your best skiing and snowboarding, you need to train like the best.
Personal Re-Training will make this season your best ever — fun, challenging, and injury-free.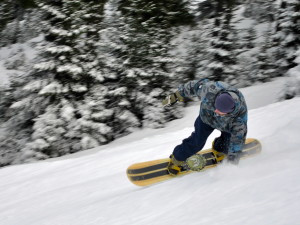 Seriously, give it a little thought. What would it take to make this winter season truly epic?
Tackling that double diamond that's intimidated you for years?
Carving your favorite groomer even faster and more smoothly?
Jumping higher and longer — and sticking every landing?
Getting up more than 50 days and feeling great the whole time?
Or maybe just enjoying a handful of good days without anything hurting or getting banged up?
Frankly, no matter what's been holding you back in the past, I can help you make this season one of your best: spend more time on the mountain, ski or ride harder, with more confidence and ease — have more fun and wake up feeling great the next day.
"Instead of my back feeling sore and worn out after skiing, my core was tired and I didn't have to hobble around for a day or two. I thought "Wow, this is how it's actually supposed to feel!"" — Ben Demboski, 34
I love working with skiers and snowboarders. Among snow sports enthusiasts it is already widely accepted that cross training improves performance and safety. Top skiers and snowboarders train hard in the gym all summer long so they can be in top form for opening day.
Whether you're looking to crush it this winter and have your best season ever, or whether you just want to prove wrong whoever told you that your skiing days are over, I can help you perform better than you thought possible — more safely than ever before.
With Ross Meyer Personal Re-Training, you will:
Ski and snowboard harder and faster, carve sick turns, and jump like a joyous antelope.
Go as hard as you want, all day long, feeling great, and wake up the next day ready for more.
Explore more challenging terrain: be like the mountain goat and go anywhere you want.
Become indestructible, and shake off the bonks and bruises that used to send you to the lodge.
Beat your friends to the lift, and make your kids work to keep up with you.
Feel stronger than you did 5 or 10 years ago and add years to your career — ski and snowboard as long as you want, years past when your peers are quitting.
If all this sounds to good to be true, I understand. (I've heard it all before.)
And I respond by respectfully challenging you to consider that with the right training, you could be dramatically better than you are now. (And it will be a blast to take you there.)
Click on Contact and reserve your complimentary phone consultation so we can chat one-on-one about how we'll tune your game so you can slay the slopes.
Thanks, I look forward to speaking with you soon.
—Ross
"I now feel comfortable that I'll be skiing in my eighties, and that I can maintain a level of fitness which is well beyond what I would have expected for my age if I hadn't done this." — Carrie Nelson, 52